Upcoming Events
---
Third Thursdays  4:00 – 7:00 PM
Experience art, entertainment, fun activities and the Rio Vista Museum while leisurely shopping our quaint downtown. Don't forget to grab your coupons from any of the participating stores.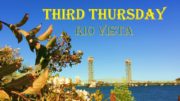 ---
May through November     9am - 1pm      Main Street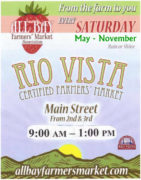 ---
June 10, 2017     4:30—8:30pm
California Endive Farms, 15 Poppy House Rd, Rio Vista, CA
What an exciting time for California Endive Farms and Rio Vista. California Endive Farms has added a curly bright yellow Endive to the family and has expanded its facility. Rio Vista has been named the fastest growing City in Solano County and many new residents joining our growing community have not enjoyed the Endive Experience. Solano County and beyond, this is a perfect road trip, ending in dinner, music, entertainment, and a chance to tour one of Solano County's unique treasures.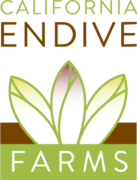 Individual tickets available at Pets 4 All or Eventbrite, or Contact Constance Boulware.
Ticket Prices: General $55.00, Reserved Individual Seating $60.00, or Reserved Table for 8 $550.00, or Reserved Table for 10 $650.00.
Ticket Price Includes: Dinner – New York Steak or Chicken, au gratin potatoes, endive salad, wine and dessert.
Facility Tours: 4:15 to 5:15
Entertainment: Comedian Sandra Risser and Guitarist Roger Kohn
Plus 10 Free Raffle Tickets
Dessert & Live Auctions
Reserved Table Price Includes: All of the above plus additional wine and raffle tickets, VIP seating and recognition in the program, website, and other media.
Contact Constance Boulware for individual tickets or to reserve a table at constance.boulware@yahoo.com or (707) 639-7175.
Welcome to 4th Annual Hog August Bites event in Rio Vista. Hog August Bites goal is to showcase downtown Rio Vista while at the same time raising money for the local youth groups. This is a fun family event for all. Net proceeds will be shared with various youth organizations in our community. The Committee would like to thank all the contestants, vendors, sponsors and supporter for supporting this event. August 19, 2017 is the next event so get ready.