Upcoming Events
---
Third Thursdays 4:00 – 7:00 PM
Experience art, entertainment, fun activities and the Rio Vista Museum while leisurely shopping our quaint downtown. Don't forget to grab your coupons from any of the participating stores.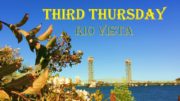 ---
May through November 9am - 1pm Main Street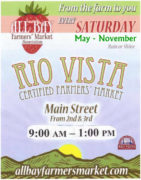 Welcome to 4th Annual Hog August Bites event in Rio Vista. Hog August Bites goal is to showcase downtown Rio Vista while at the same time raising money for the local youth groups. This is a fun family event for all. Net proceeds will be shared with various youth organizations in our community. The Committee would like to thank all the contestants, vendors, sponsors and supporter for supporting this event. August 19, 2017 is the next event so get ready.