McCormack Ranch Sheepdog Trial 2020
Sheep Run on Main Street – Thursday, April 2, 2020 (time to be announced)
Sheepdog Trial – Friday, April 3 through Sunday, April 5, 2020
Come check out our quaint town during the McCormack Ranch Sheepdog Trial 2020!
This event is the revitalization of historic events dating back to the 1930's. Drive thru the Montezuma Hills to reach the event located at the McCormack Ranch. The Sheepdog Trial will be Friday, April 3rd – Sunday, April 5th, 2020. The McCormack Ranch is located at 7680 Montezuma Hills Road west of Rio Vista.
The Sacramento River and Mount Diablo is the backdrop for the dogs and their handlers who come from across the United States converging in Rio Vista with the hope of winning a place in the United States Border Collie Handlers Association (USBCHA) Sheepdog Finals held in, Middletown, VA from October 6 – October 11, 2020.
The event will be open to the public Friday, April 3 – Sunday, April 5 from 10:00 AM – 4:00 PM. Tickets are on right here at http://discoverriovista.com/events/sheep-dog-trials/ and at the RioVision Gallery, 116 Main Street, Rio Vista. Tickets will also be available for purchase at the gate. The event takes place rain or shine so tickets are non-refundable. Bring your blanket or folding chairs and don't forget your binoculars! This is an alcohol free event.
The only animals allowed at the dog trial are those dogs participating in the contest. No other dogs or pets are permitted to enter the gates, except for service dogs for disabled persons.
For more information check back often and follow us on Facebook at https://www.facebook.com/mccormackranchsheepdogtrial/
To purchase tickets for this event click the "Buy Tickets" button.
Sheepdog Trial Poster and Program Cover Contest
Open to any medium and artists of any age.
Because the winner will be on the cover of the program and on posters advertising the event certain criteria must be met.
Instructions: Read Carefully
Entry fee: $10, the art sold will incur 25% commission.
Bring your finished piece to the gallery no later than Feb 15th, they will be on display the entire month of March and a silent auction will be held during that month and finalized on April 5th at the trial on the McCormack Ranch. There will be a kick-off event at the gallery in March.
All mediums must be 8X10 portrait orientation only!!!
Canvas sides must be painted or framed. Watercolors and photos should be matted and framed or printed on canvas or metal.
Subject matter must pertain to sheepdogs, sheep, handlers, and related scenery. Example: A sheepdog working sheep, just a dog, just sheep, or all included.
Subjects not related to the theme will not be considered or shown. Unsold Items will be returned to the artist.
Winners of the art competition will be announced at the kick-off reception.
RioVision Gallery website: riovisiongallery.com
The 4th Annual McCormack Ranch Sheepdog Trial has come to an end. Thanks to our sponsors, we had a successful event.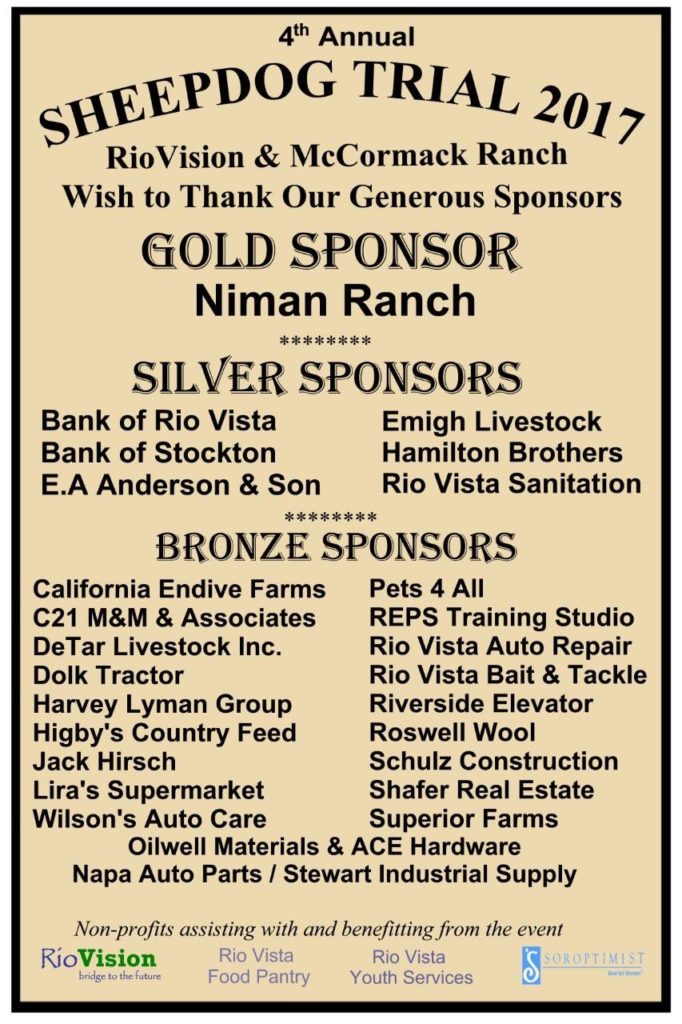 Here are some photos and videos from 2017.